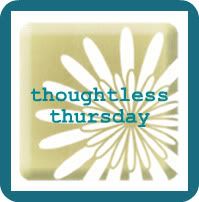 This week for Thoughtless Thursdays over @
Katie's blog,
I thought I would pose a question to my fabulous readers.
Backstory: There is a man on my bus that is in the process of becoming a woman. He has changed his name to something that is NOTHING like his current name (You know how you could be Jack and go to Jackie, or Eric and go to Erica etc).
So, regardless of your thoughts on the man on my bus, my question is:
If you could change your name to one of the opposite gender; what would you pick?
Something similar to your current name or something completely different?