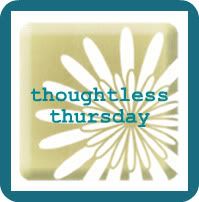 For this week's Thoughtless Thursday over at
Katie's blog
, I'd like to discuss RING CLEANING. I'll tell you how I clean mine and if your method is different, I'd LOVE to hear it!
After googling home ring cleaning and reading about 28 articles, this is what I came up with:
1. Have dirty rings
2. Soak in hot water for 15 minutes
3. Dip an old toothbrush in window/glass cleaner and scrub for several minutes
4. Re-soak ring in hot water for a few minutes
5. Re-scrub with toothbrush but this time with just hot water
6. Put it in jewelry cleaner for a few minutes
7. Rinse and let dry.
8. Wear your shiny clean rings!
Head over to Life in the Fulmer Lane to play along and don't forget to tell me how you clean your rings!