Have you heard of it? Apparently it's all the rage! (I mean Lauren Conrad is doing it after all!)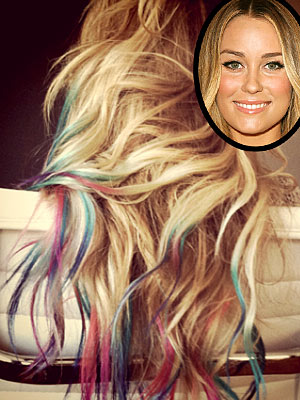 Image via People.com
Being more focused on bottles and baby-proofing these days, I thought we were still putting feathers in our hair… can we say this new Mama needs to get out more?! (Or at least buy a fashion magazine once in a while!)
Now that I know about it though, I am obsessed with it! I mean the ability to make a non-committal, totally fashionable hair decision on a whim? What's better and more fun than that?!!
The good news for you? Hair Chalking is coming to Give & Glam Girls Night Out!
Kristi Beaman and her team of stylists from Studio B in Cranston are offering Give & Glam attendees the chance to rock some profesh chalk in their locks! So if you haven't got your ticket yet (What are you waiting for?!), head on over to Give & Glam before it's sold out!
Studio B, a salon and beauty boutique, is a full service hair salon specializing in cutting, coloring, foiling, and styling. It is located Garden City Shopping Center, in Cranston, Rhode Island.
For more information on Give & Glam Girls' Night Out, click here!