Today's Pearly Wisdom topic is:
Favorite Books
Jack has a pretty giant library (and we love it!) He loves reading and pointing at pictures. We have many favorites but our top two are:
Time for Bed by Mem Fox
Snowmen at Night by Caralyn Buehner
For the rest of the Mama's (including Samantha and KW, as well as others), the big favorites seem to be Goodnight Moon and Brown Bear, Brown Bear.
Shanna
All Susan Boynton books, Dr. Seuss books, "Love is you and Me" by Monica Sheehan and "I Love You Because You're You" by Liza Baker. Those last two are probably favorites because I love them.
McKeever
As a Kindergarten teacher, there are too many favorites. Here are a few, Good Night Moon, Guess How Much I Love You, Love you Forever, anything by Dr. Seuss, and touchy-feely books, and any Eric Carle books.
Melissa
Board books are fabulous! Our favorites are: Brown Bear, Brown Bear, What Do You See?, The Very Hungry Caterpillar, Hop on Pop, Dr. Seuss' ABC's, and any touch and feel books.
Mrs. C
Parenting magazine and what to expect books. However some of those books can be scary and overwhelming!
Emily
The Happiest Baby on the Block – A MUST read! Cannot emphasize this enough.
Sara
- "Grumpy Bird" & "Boo Hoo Bird" by Jeremy Tankard - I must have read these 1000 times.
- I love books that rhyme so my faves include: the Jillian Jiggs series, "Chicka Chicka Boom Boom" by Bill Martin Jr. and "The Gruffalo" by Julia Donaldson.
Becky
-My little duckling
-Z is for Zoo
-F is for Farm
-Now I am one
-A cuddle for Little Duck
-Because I love you
Heather
We read every day! Emmalee will go to her book shelf and "play" with her books and every night before bed, we read a few. Along with the classics like Good Night Moon and the Very Hungry Caterpillar, a few favorites are:
Strega Nona, No David, Pajama Time, Good Night Boston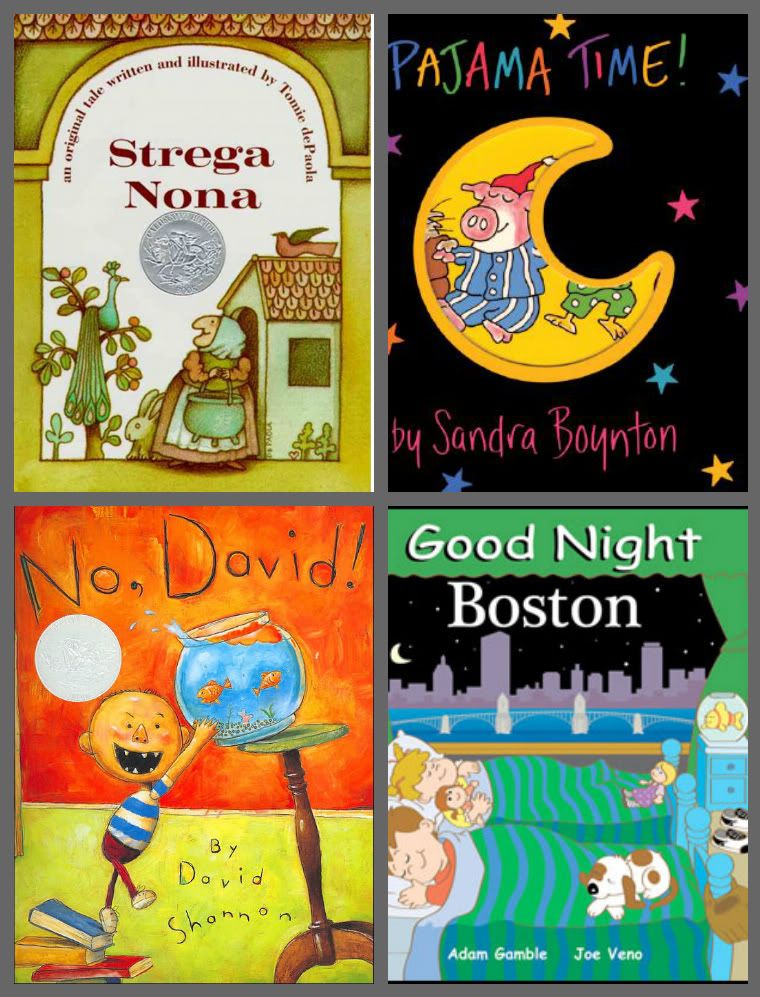 Thank you to this week's contributors!
Samantha, Mama to Xavier, 6 months, Author of Three Beasts One Baby
KW, Mama to C, 15 months, Author of Snips and Snails and Ponytails
Shanna, Mama to Samuel, 1 year, Author of The Life and Times of Lubey
McKeever, Mama to Grayson, 10 Months, Author of The Cobia Family
Melissa, Mama to Landon, 7 Months, Author of Love, Marriage, and a Baby Carriage!
Mrs. C, Mama to Evan, 1 year, Author of The Other Side of the Story
Emily, Mama to Georgia, 8 months, Author of Live a Charmed Life
Sara, Mama to Saige, 3 years & Gabe, 3 months, Author of Saige Wisdom
Becky, Mama to Elliana, 14 months, Author of From Mrs. To Mama
Heather, Mama to Emmalee, 10 months, Author of Keeping Up With the Giffords